By:  Bob Berwin
The Department of Veterans Affairs said it processed more than 1.3 million disability compensation and pension claims in fiscal 2014, which ended last week. That's the highest number in history, surpassing last year's record-breaking production by more than 150,000 claims.
The quality of claims decisions increased along with the number of claims processed, VA said.
The accuracy of VA decisions rose from 83 percent in...
Read Full Post »
By Jordain Carney
National Journal
June 30, 2014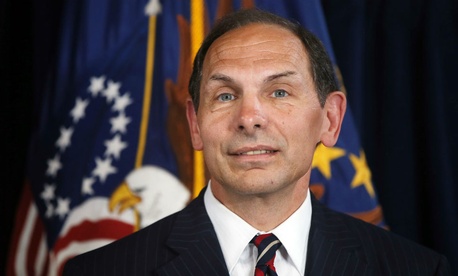 Former Procter and Gamble executive Robert McDonald, President Barack Obama's nominee as the next Veterans Affairs secretary
Charles Dharapak/AP

We now know who will inherit the broken Veterans Affairs Department, but fixing the agency's bureaucr...
Read Full Post »
June 13, 2014 | Benjamin Krause
SAN DIEGO – Veterans were horrified while seeking VA health care on Wednesday when approached by Homeland Security police in an Operation Shield exercise. The exercise was for the purpose of "presence deterrence" at a VA health care facility in San Diego. Many veterans' legal advocates are concerned about what this "presence deterrence" actually means and what it seeks to accomplish for veterans needing care.
...
Read Full Post »
By Steve Vogel,
Published: August 23
Shortly before his death on June 10, Army veteran Daniel Somers wrote a note for his family, asking his wife, Angel, to share it as she saw fit.
"I am left with basically nothing," he typed on his laptop at their Phoenix townhouse. "Too trapped in a wa...
Read Full Post »
The Department of Veterans Affairs (VA) is implementing an initiative to expedite compensation claims decisions for Veterans who have waited one year or longer. Effective April 19, the VA will begin to make provisional decisions on the oldest claims in inventory, which will allow Veterans to begin collecting compensation benefits more quickly, if eligible. This initiative provides a one-year safety net to submit further evidence should it becom...
Read Full Post »
WASHINGTON, D.C. – The U.S. House Committee on Veterans' Affairs held an oversight hearing yesterday, April 24, on the strategic and policy implications of the Affordable Care Act (ACA) on veterans eligible for and engaged with health care provided by the Department of Veterans Affairs (VA). Committee members examined the potential impact of the law and VA's efforts to understand, implement, and meet the ACA's requirements.
"The implementation ...
Read Full Post »
Aaron Glantz Reporter
The Department of Veterans Affairs has failed to provide key information to Congress and the public that shows the agency's ability to quickly provide service-related benefits has virtually collapsed under President Barack Obama.
Internal VA documents, obtained by the Center for Investigative Reporting and authenticated by the agency, reveal that delays newly returning veterans face...
Read Full Post »
By JAMES DAO

The Department of Veterans Affairs will propose new regulations on Friday that will make it easier for thousands of veterans to receive health care and compensation for certain illnesses that have been linked to traumatic brain injury.
The regulations, which will be published on Monday in the Federal Register, lists Parkinsonism, unprovoked seizures, certain dementias, depression and hormone deficiency diseases related to the hypothalamus, pituitary or ad...
Read Full Post »
The Department of Veterans Affairs has released a comprehensive report on veterans who die by suicide. The report indicates the estimated total number of veterans who have died by suicide has increased. VA has implemented comprehensive suicide prevention initiatives, including a toll-free Veterans Crisis Line, placement of suicide prevention coordinators at all VA medical centers and large outpatient facilities, and improvements in case management and reporting. Information from the report is...
Read Full Post »
WASHINGTON – The Department of Veterans Affairs (VA) today announced that it has made significant progress in providing increased access to mental health care services for our Nation's Veterans by hiring new mental health professionals. Last year, Secretary Eric K. Shinseki announced a goal to hire 1,600 new mental health clinical providers and 300 administrative support staff. The President's Aug. 31, 2012, Executive Order requires the positions to b...
Read Full Post »