ASHINGTON, DC — Iraq and Afghanistan Veterans of America (IAVA), America's leading post-9/11 veterans empowerment organization, announced today significant, additional support for its Burn Pits Accountability Act (H.R. 5671/S. 3181) to improve the tracking and reporting of servicemembers' exposure to burn pits and airborne toxins during their deployments, and the recent passage of the National Defense Authorization Act of 2018. Burn Pits are among IAVA's 2018 Big 6 Pr...
Read Full Post »
MISSION, Kan., Aug. 2, 2018 /PRNewswire/ -- (Family Features) Whether playmates or protectors, the human-animal bond is often a powerful connection that goes beyond pure companionship. Dogs typically have many talents and personas – they can be man's best friend, a canine companion during a difficult time or even a service dog helping veterans and others through daily routines. No matter the relationship between dog and human, these animals can improve lives in numerous ways.
...
Read Full Post »
Senior Airman David Cooper
JOINT BASE SAN ANTONIO-RANDOLPH, Texas - "I suffered a traumatic brain injury and shrapnel hit my ankle."
Staff Sgt. Melissa Gonzalez, a medically retired veteran, was a member of the 60th Security Forces Squadron at Travis Air Force Base, Calif., and was thrown from her team's Humvee when they struck an improvised explosive device while deployed to Bagram, Afghanistan, in 2009.
Gonzalez was...
Read Full Post »
BY PEGGY MISHOE
More and more people are learning about post-traumatic stress disorder (PTSD), how to recognize it and how to help its victims, including many Baptist women across America, such as the Woman's Missionary Union of the Waccamaw Baptist Association
The Rev. Michael BeLue, the WBA's interim director of missions, has seen it firsthand. It was BeLue's experience and background that led Peggy Jones, director of the WMU, to ask him to speak t...
Read Full Post »
By:  Bob Berwin
The Department of Veterans Affairs said it processed more than 1.3 million disability compensation and pension claims in fiscal 2014, which ended last week. That's the highest number in history, surpassing last year's record-breaking production by more than 150,000 claims.
The quality of claims decisions increased along with the number of claims processed, VA said.
The accuracy of VA decisions rose from 83 percent in...
Read Full Post »
By Jonathan Drew
Associated Press
RALEIGH, N.C. — Decades before the television show, a Marine Corps battalion decorated for extensive combat in World War II and Vietnam earned the nickname the "Walking Dead."
Now the 1st Battalion, 9th Marine Regiment, which also saw action in Iraq and Afghanistan, has been deactivated during a ceremony Friday at Marine Corps Base Camp Lejeune in North Carolina. The step comes as top U.S. military and politic...
Read Full Post »
By Jordain Carney
National Journal
June 30, 2014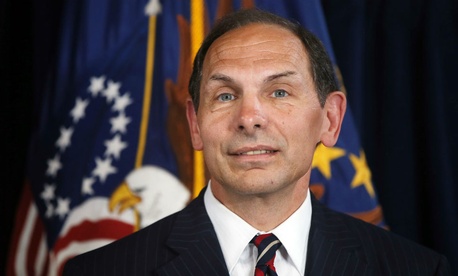 Former Procter and Gamble executive Robert McDonald, President Barack Obama's nominee as the next Veterans Affairs secretary
Charles Dharapak/AP

We now know who will inherit the broken Veterans Affairs Department, but fixing the agency's bureaucr...
Read Full Post »
Wednesday, July 30th, 2014 | Posted by Allen L Roland
service-dogs In my proven heart centered work with combat veterans with PTSD it is obvious that the healing power of unconditional love can facilitate transformative change. Nowhere is that more evident than with Combat Veterans with their special need dogs ~ for only unconditional love can penetrate the dark shadow world of PTSD:
 by Allen L Roland, Ph.D
...
Read Full Post »
November 15, 2013
"VA continues to explore innovative ways to help Veterans get access to the care and services they have earned and deserve," said Secretary of Veterans Affairs Eric K. Shinseki. "This new dental program is another example of VA creating partnerships with the private sector to deliver a range of high-quality care at an affordable cost, for our Nation's Veterans."
More than 8 million Veterans who are enrolled in VA health care can ch...
Read Full Post »
FEATURES, MARINES UNCOVERED // June 10th, 2014 // By Retired Cpl. Michael Egan
Two years ago, Cpl. Michael Egan lost his legs by stepping on an Improvised Explosive Device. Now he is dealing with not only his physical wounds, but his mental ones, too. (Photos courtesy of Michael Egan/Released)
Two years ago, Cpl. Michael Egan stepped on an Improvised Explosive Device during h...
Read Full Post »